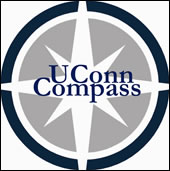 UConn Compass is an involvement program that promotes student engagement through co-curricular involvement. The University offers a multitude of programs and services that enrich the social, intellectual, physical, spiritual, and ethical development of our students. The UConn Compass program helps students to explore opportunities available at the University and helps them connect with campus life in a positive manner.
Through the UConn Compass program, students will have the opportunity to meet one-on-one with a highly knowledgeable facilitator to discuss their experiences, interests and goals. Facilitators will talk to students about their extracurricular activities in high school, academic interests, and future career aspirations. UConn Compass facilitators will work with students to design a customized involvement plan based on their individual interests. The student will attend agreed upon activities, events, and organization meetings. Typically, there will be one academic focus, one long-term activity, and the third is flexible. Students will complete a reflection at the end of the process.
In addition, students who are suspended from the University for behavioral reasons will be assigned a UConn Compass facilitator. This facilitator will be the main contact for the student throughout his/her Suspension and will work with the student when it is time for the student to return.
Submit your UConn Compass reflection here.
---
UConn Compass Frequently Asked Questions